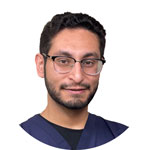 Dr. Sayed Hafizi
General Dentist
Dr. Sayed N. Hafizi was born in Ottawa and completed his Honours Bachelor of Health Sciences at the University of Ottawa. His interest in practicing dentistry was sparked after shadowing Dr. Harle and observing his philanthropic work in the Ottawa Mission. Dr. Hafizi completed his dental training at University College Cork in Ireland. Home is where family is, and Dr. Hafizi returned to Canada to practice in Toronto.
Dr. Hafizi loves challenges as he finds that one learns best in challenging situations. Whether the challenge may arise from the nature of the treatment or other factors, Dr. Hafizi rises to the challenge and provides exceptional treatment. Some of the challenges he has overcome and excelled in include successfully conducting root canal treatment on complicated canals, restoring heavily decayed teeth, and providing dental treatment to anxious patients.
While Dr. Hafizi loves the many branches of dentistry, he is particularly interested in endodontic treatment, anterior fillings, and dental surgery. When he is not with his patients, he spends time with family, travelling, volunteering, working on projects or keeping active.