Dental emergencies don't always happen between regular business hours. Our North York dentists provide emergency services for your convenience. Receiving necessary dental care could save your smile, and treat pain or symptoms you may be experiencing. We do all we can to provide emergency dental care when needed. If you've experienced an injury to your mouth such as a knocked-out tooth, cracked or chipped teeth, facial swelling, a missing crown, and more – do not hesitate to call us immediately. We'll book a dental emergency appointment and will make every effort to see you as quickly as possible.
Why Choose North York Dental for Emergency Dental Care?
Same-Day Emergency Appointments
Kind and Friendly Team of Professionals
Dental Insurance Welcome & Flexible Financing Available
What to Do in a Dental Emergency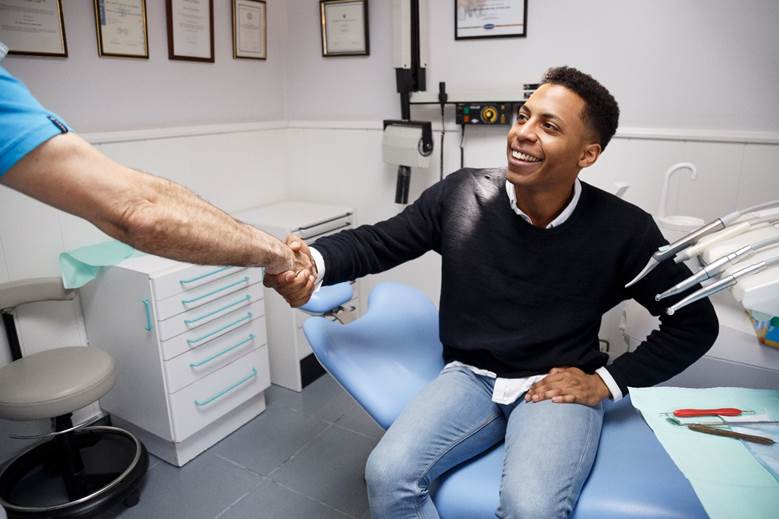 Call our office right away. The sooner you give us a call, the better chance we'll have of seeing you the same day as your injury. We'll schedule you as soon as possible. Over the phone, we'll share first aid instructions to help you manage your situation in the meantime.
See our team for an emergency exam. When you get to our office, we'll carefully assess your situation to determine the extent of the damage. Using our findings, we'll create a custom treatment plan to get your smile back on the right track.
Get the care you need. If you're in pain, we'll do what we can to eliminate your discomfort. Some common solutions for dental emergencies include fillings, dental crowns, root canal therapy, and gum disease treatment.
The Most Common Dental Emergencies
There are two main types of dental emergencies: infections that occur over time from poor oral healthcare and sudden physical injuries. Even if you're not sure if you're experiencing a dental emergency, we encourage you to contact our office as soon as possible. Our expert dental team can give you first aid instruction on how to handle your situation. In the meantime, here are some of the most common dental emergencies we treat:
Understanding the Cost of Dental Emergencies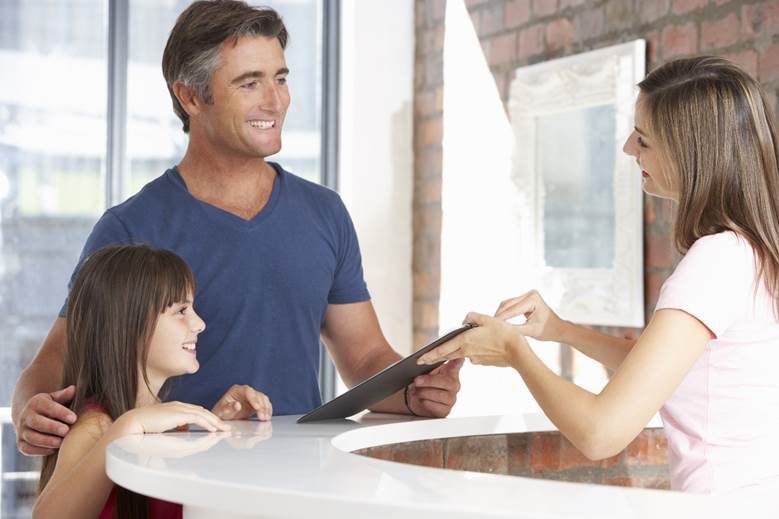 You probably never expect to need an emergency dentist in North York. However, it's a common situation for many people. In fact, 1 in 6 adults will need urgent dental attention this year. If you're among the unlucky few who need an appointment right away, don't let the fear of an outrageous bill keep you from contacting our dental office. Although every plan differs, we'll help you find the affordable solutions you need to save your smile and budget for the cost of dental emergencies in North York.
Keys to Preventing Dental Emergencies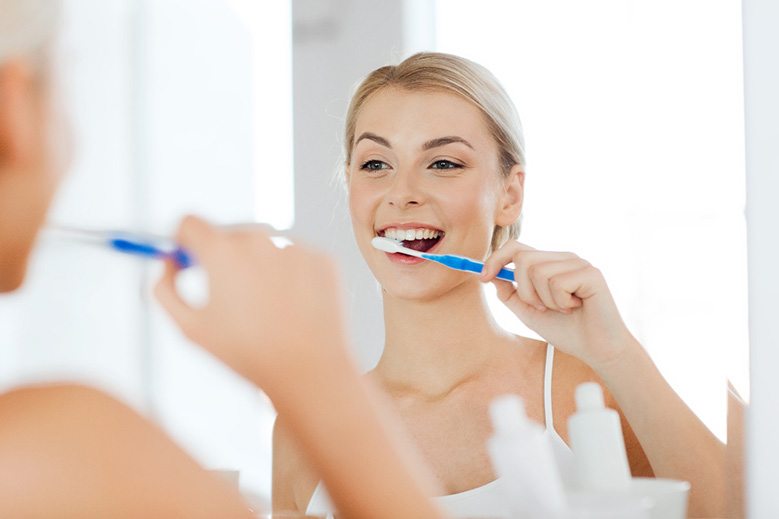 To put it simply, it's not always possible to prevent dental emergencies from occurring. However, there are still several precautionary measures you can take to drastically reduce your chance of sustaining a serious dental injury and ending up in your emergency dentist's chair. Keep reading to learn a little more about a few different ways you can protect your smile and ultimately prevent a dental emergency in North York from occurring in the first place. If you have any other questions about dental emergency prevention, don't hesitate to give us a call!
Visit Your Dentist Regularly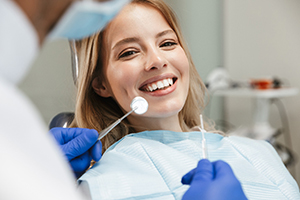 Visiting us for regular preventive care is one of the absolute best ways you can actively prevent dental emergencies! During these visits, our team will carefully inspect and thoroughly clean your mouth at a detailed level that you're unable to carry out on your own at home. We'll look at every structure inside your mouth including your teeth, gums, tongue, and jaw—and if there's anything that needs to be addressed, we'll let you know and ensure that it's not able to progress into something serious.
Maintain Excellent Oral Hygiene at Home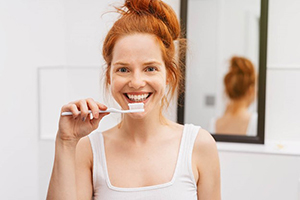 Outside of your dental visits, you'll need to keep up with your oral hygiene every day. You should brush your teeth twice a day for two minutes each time, using a soft-bristled toothbrush coupled with a fluoride toothpaste. You should also floss daily; flossing allows you to clear out those hard-to-clean spaces that your toothbrush can't reach. Rinsing with an antibacterial mouthwash is also invaluable and can help promote a healthy smile.
Stick to a Healthy Diet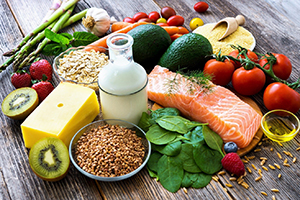 Your diet also plays a large role in keeping things clean and healthy inside your mouth. It's well-known that sugar is one common cause of tooth decay and cavities, but you should also be mindful of starchy items or foods that are loaded with carbohydrates. Try sticking with foods that are vitamin- and nutrient-rich and support your overall health, including plenty of hearty fruits and vegetables. You should also avoid overindulging in sugary drinks like sodas, energy drinks, or sports drinks, and opt to drink water when possible—it stimulates the flow of saliva inside your mouth and is the best beverage for your smile!
Protect Your Smile with a Mouthguard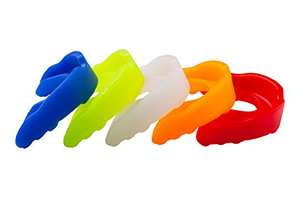 If you frequently participate in sports or physical activities, you're at a very increased risk of sustaining an oral injury; however, a mouthguard can help. These nifty little devices are able to redistribute the force of impact across your whole mouth, rather than just the point of contact. You can also receive a customized nightguard if you suffer from bruxism, or teeth grinding and clenching. These appliances can ensure that your enamel isn't being needlessly worn down!
Don't Use Your Teeth as Tools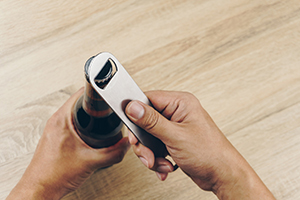 Your teeth are meant for eating—and that's pretty much it! The last thing you'd want to happen is to sustain a dental emergency while using your teeth to tear open a package, hold your car keys, or unscrew a bottlecap. Believe it or not, these habits can very easily lead to a chipped or fractured tooth or dental restoration.
Dental Emergency FAQs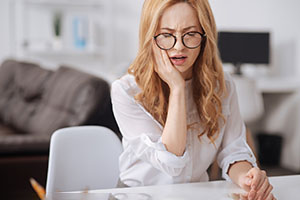 Are you experiencing a dental emergency. It's completely understandable that you have some unanswered questions so we're here to help! Here are the answers to some of the most common questions we are asked about dental emergencies in North York. If you don't see the information that you've been looking for below, don't worry. Give us a call and we'd be happy to answer your questions and get you started with an initial consultation.
Will my toothache go away on its own?
Toothaches don't usually go away on their own. Because of this, it is best to schedule an appointment with a dentist to make sure nothing serious is going on. There are many potential causes of a toothache, so you will want to rule them out with a professional. Doing this can help you catch underlying problems before they become more serious.
How should I sleep with tooth pain?
It can be difficult to get quality sleep when you're dealing with a toothache. Until you're able to see a dentist in the morning, keep your head elevated. This will prevent blood from rushing to your head and intensifying the pain. Additionally, take over-the-counter pain relievers as needed and avoid foods that are acidic, cold, or hard right before bed to improve comfort. A cold compress can also help to numb the area.
Should I visit the emergency room first for dental emergencies?
Unfortunately, most emergency rooms are not able to address dental emergencies effectively. However, there are a few main exceptions. You should head directly to the ER if you've experienced a jaw fracture or dislocation, serious cut or laceration to the face or mouth, or an infection that is swollen to the point of affecting your breathing or swallowing. In pretty much any other circumstance, you should visit a dentist first.
Can I pop a dental abscess on my own?
You should never attempt to pop a dental abscess on your own. Always get in touch with a dentist right away, as an abscess is considered a dental infection and is therefore an emergency. Popping the abscess will only expose your mouth to more bacteria and irritate the area more. Additionally, putting off treatment can allow the infection to spread within the mouth and to other areas, like the neck, throat, and head.