If you suffer from tooth loss, you know firsthand that missing teeth can be difficult. It's pretty hard to bite, chew, or even speak without all your pearly whites. That said, you could easily solve these issues by getting dentures in North York! As offered by North York Dental, such prosthetics restore your full, beautiful smile to its former self. To learn more about how they work, keep reading or contact our office for a first-time consultation.
Who is a Good Candidate for Dentures?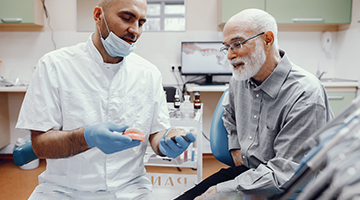 As you'd expect, the best denture candidates have major problems due to their smile gaps. The most common challenges they face are:
An inability or reduced ability to speak (i.e., lisps, mispronunciations, etc.)
Persistent struggles to chew and swallow tough foods
Insecurity from reduced confidence and body image
Still, not everyone with the above factors needs dentures. Some, for instance, would benefit more from other restorations — especially if they aren't missing all the teeth along an arch. Furthermore, dentures require healthy gums to work well.
Types of Dentures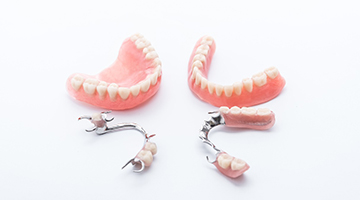 When getting dentures, you'll first consult with our team to better understand the treatment. In particular, we'll ask about your smile goals, medical history, and so on. That way, we can learn your best type of denture(s). From there, we'll recommend one of the following:
Partial Dentures
Partial dentures replace a few pearly whites in your mouth's upper or lower portion. Usually removable, they rely on natural, adjacent teeth for support. In addition, their bases are often made of plastic (resin) or metal.
Overall, partial dentures aren't intended for around-the-clock wear. As such, dentists recommend removing and cleaning them at night.
Full Dentures
Per its name, a full denture replaces an entire arch of teeth. Therefore, it doesn't use clasps but stays in place with natural suction. To ensure it feels comfortable, dentists customize its base to fit snugly over your gums.
Implant Dentures
Implant dentures are ones connected to dental implants — restorations that fuse with your jawbone. More permanent and stable than other kinds, they don't slip or fall out of your mouth. At the same time, they stimulate and maintain bone tissue in your jaw. Given such traits, these dentures are a great alternative for patients who aren't happy with traditional models.
The Benefits of Dentures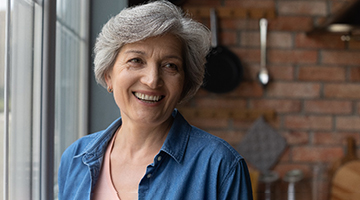 When you get dentures from our North York practice, you'll experience a variety of perks. Some of them are:
Younger Looks: Some dentures can prevent facial collapse. Implant ones, especially, stop the bone loss that contributes to it.
Easier Eating: With more teeth in your mouth, you'll have less difficulty eating tough foods. That change, in turn, will help you eat a more well-rounded diet!
Natural-Looking Smile: Dentists customize each denture to meet a patient's unique needs. Consequently, the result is always natural and lifelike.
Cost-Effectiveness: Given proper care, a denture can last 5 to 7 years. You can thus count on them to be an excellent dental investment!