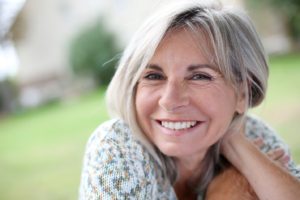 If you have missing teeth, dental implants are one of the best available options for having them replaced. These incredible implants are able to fully restore the look and functionality of your lost pearly whites—and quite well! However, in some cases a dental bone graft might be necessary before you're able to get dental implants. But if this is something your dentist has mentioned, it's nothing that you need to worry about; in fact, the procedure is certain to help your future implants! Keep reading to learn more about the dental bone graft process and why it's sometimes necessary before receiving dental implants.
When Is Dental Bone Grafting Necessary?
Sometimes, a patient needs dental implants to replace their missing teeth—but their jawbone isn't capable of supporting them. This can be problematic; your jaw must be strong enough to support the constant motion and pressure of chewing, biting, talking, and moving your mouth. The type of bone responsible for this is called the alveolar bone; if there's no teeth for your alveolar bone to support, bone atrophy (bone loss) can occur.
This is where dental bone grafts come in handy; they're able to ensure that the jawbone can fully support the implants so that they last. Sometimes dental bone grafts can also be used to address advanced gum disease that causes bone loss, as well as bone loss that results from developmental defects or facial trauma.
How Do Dental Bone Grafts Work?
The process isn't nearly as complicated as it sounds; it simply involves your dentist borrowing bone from another part of your body—usually somewhere in your mouth—and using it to fortify existing bone matter in your jaw. By transplanting this healthy bone tissue, your dentist can recreate bone and supporting tissue in areas where it's missing.
There are a few different types of dental bone grafts. The most common type is called a socket graft, and it's meant to prevent bone atrophy as well as the collapse of the socket. Lateral ridge preservation can be used to increase the width of the jawbone to accommodate implants. Block bone grafts are necessary when there are large defects in the jawbone. And sometimes a sinus lift procedure is used when patients need implants in their upper jaw, which is usually not stable enough to support implants on its own. In any case, it will take several months for the new bone matter to fuse with the existing natural bone before you can receive your implants.
A dental bone graft is an incredible, revolutionary procedure that effectively prepares your mouth for dental implants. If your dentist has informed you that you'll need one, don't worry—it's going to bring you one step closer to a beautiful, healthy smile.
About the Practice
North York Dental proudly serves patients and families in the North York area under the leadership of three skilled specialists: Dr. Eli Shem-Tov, Dr. Nada Harakati, and Dr. Sam Sharma. Together they combine several decades of experience to provide their patients with an exceptional level of dental care. Their practice is pleased to offer many available services including dental implants. If you have any questions about dental implants or would like to schedule a visit, feel free to contact the practice online or over the phone: +1 416-494-7878.