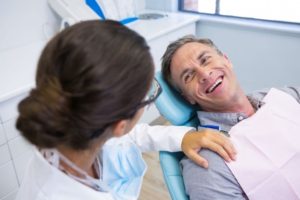 Root canals have an unfair reputation; despite what you might've heard through the grapevine, the procedure isn't meant to be frightening or notoriously painful at all. In fact, it's arguably one of the best ways to save a compromised tooth! Despite this, there are still many false root canal myths floating around out there that deter people from receiving the care their smile needs. Keep reading to learn more from your dentist in North York as they debunk some of these myths and inform you about all of the benefits of receiving root canal therapy.
Popular, False Myths about Root Canal Therapy
Here a few of the most common myths about the procedure:
It's incredibly painful – This is absolutely false; in fact, root canals are designed to resolve the source of the pain, rather than make it worse! With anesthesia, the procedure itself is no more painful than receiving a dental filling.
The procedure is lengthy – These days, the average root canal treatment usually only takes 1 – 2 hours with no complications.
It'll make you sick – If you've read that root canal therapy increases your likelihood of becoming sick in the future, this simply isn't true. These claims were made long before modern medicine understood the causes of many diseases; simply put, there is no valid scientific evidence linking root canal therapy to disease elsewhere in the body.
Tooth extraction is the better option – Tooth extraction is only called for as a very last resort, as your natural teeth are invaluable to your oral health. Not to mention, replacing a lost tooth can also make things more complicated or more costly than they need to be.
The Awesome Benefits of Receiving a Root Canal
If you've been informed that you need a root canal, there are several benefits that you can enjoy. The process provides relatively quick pain relief for your problem tooth, and the procedure itself fully eliminates the root cause of the issue. Better yet, it salvages your tooth and gives it a second chance at life once it's been outfitted with a crown following the treatment. This means that you can also expect optimal oral health moving forward—assuming you take great care of your smile!
Root canal therapy has a remarkably high success rate and often lasts for a long while—and knowing what's true and what's false about the procedure can help you feel confident about committing to it!
About the Practice
The team at North York Dental is thrilled to serve the needs of the North York area under the skilled leadership of four specialists: Dr. Eli Shem-Tov, Dr. Nada Harakati, Dr. Sam Sharma, and Dr. Sayed Hafizi. They combine several decades of experience to offer an exceptional level of dental care for all their patients. If you have any questions about root canal therapy or would like to arrange a visit, don't hesitate to visit the practice's website or give them a call at: +1 416-494-7878.