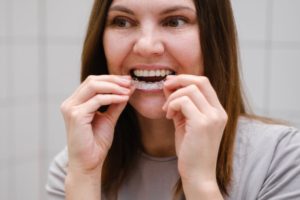 Are your bottom teeth looking great, but maybe you could use some alignment help with your top row? That might have you wondering, "Can I get Invisalign on just my top teeth?" You can, but before moving forward, there are some factors for you to consider when it comes to single-arch treatments. Keep reading to learn from your dentist about getting Invisalign in North York only on your upper teeth.
What Is Single Arch Treatment?
Do you know what a dental arch is? It's the U-shaped arrangement of bone, tissue, and teeth on both the upper and lower jaw. If you're only getting dental care on the bottom or top teeth, it's referred to as single-arch treatment.
With Invisalign, you'll wear a clear aligner just on your top teeth and change it out as directed (usually every week) to shift teeth into their ideal positions. However, a dentist will only recommend single-arch treatment after thoroughly examining your mouth since changing just one will affect your overall bite.
What Problems Can Arise When Straightening Only Top Teeth?
It may not seem obvious but treating only the top arch with Invisalign has many potential challenges. Although it can make the teeth appear straighter, this approach can also shift your bite and cause jaw misalignment.
It can change the pressure points and make it so that certain teeth hit higher or harder than others. When that happens, it can lead to issues like toothaches, tooth wear, and TMJ pain if not done correctly. Because of this, it's crucial to carefully monitor the bite throughout every case. Moving just the top or bottom arch independently affects the entire system of your mouth.
Am I a Candidate for Single-Arch Invisalign Treatment?
It's worth noting not everyone is eligible for single-arch treatment. Your dentist will conduct a thorough oral examination to determine whether you're able to get Invisalign for only your top teeth. It varies on a case-by-case basis, depending largely on your bite and specific smile goals.
"So, can I get Invisalign on just my top teeth?" You can, but the final answer comes down to whether you should. That will be determined during a consultation with your dentist in North York. After an examination, they can recommend this treatment if it makes sense for you.
About the Author
Dr. Eli Shem-Tov earned his dental doctorate from the University of Western Ontario. He is currently a clinical instructor at the Faculty of Dentistry at the University of Toronto. Dr. Shem-Tov knows that many people are looking for a dental professional who can stop their pain, help them maintain their dental health, and advise them when they want to improve their smile. If you are interested in Invisalign, schedule a free consultation so you can get acquainted with your customized treatment plan. Schedule one on his website or call (416) 494-7878.