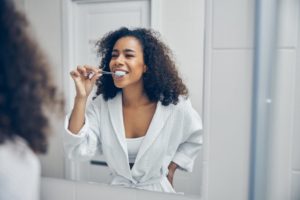 You've probably been told your whole life by parents, friends, and dental professionals alike that you need to brush your teeth twice a day—once in the morning, and again in the evening before bed. But as far as brushing at the start of the day is concerned, is it better to brush before eating breakfast or afterward? Here's why your dentist thinks you should be brushing your teeth prior to breakfast, along with some tips for doing it properly.
The Benefits of Brushing Before Breakfast
Even though it might seem weird to brush before eating breakfast, there are actually several oral health benefits to doing so. Here are three notable ones:
Clears away that "fuzzy" feeling from when you wake up – Sometimes you might notice an odd, fuzzy feeling in your mouth when you wake up. This is caused by plaque and bacteria building up on your teeth overnight, and it's also often the cause of morning breath. Brushing easily clears this sensation away so you can start your day off with a bright smile that feels great, too.
Encourages saliva production – Your saliva is your mouth's first line of defense against cavity-causing bacteria, and it also helps fluoride and other minerals like calcium to enhance your teeth.
Prevents acid damage – Brushing directly after eating can actually spread acidic particles around your mouth, instead of clearing them out. Certain breakfast items like fruit, pastries, and orange juice also tend to be very sugary and acidic. Dentists recommend waiting at least half an hour to brush after eating to give your saliva the chance to neutralize the present acids.
3 Easy-to-Follow Steps for Brushing the Correct Way
Here are some simple steps to follow to ensure that you're brushing the correct way when you wake up each morning:
Select a soft-bristled toothbrush and wet the brush head with water to lubricate it. Add a pea-sized amount of fluoride toothpaste to the bristles.
Brush at a 45-degree angle to your gumline so that you can access hard-to-reach spots. Brush for 2 minutes, using scrubbing circular motions, and be sure you're cleaning the front surfaces of your teeth, the sides, and the chewing surfaces. Don't forget to brush your tongue!
Spit out any leftover toothpaste and avoid rinsing your mouth for about 10 minutes to give the fluoride a chance to assist your enamel.
Brushing twice a day is one of the best ways to ensure a healthy and bright smile, but when youbrush is pretty important too. That said, these benefits of brushing before breakfast are simply too great to pass up.
About the Practice
The team at North York Dental is thrilled to serve the dental needs of the North York community. They offer a wide range of preventive, cosmetic, and restorative dentistry options that are certain to assist your smile's beauty and get your oral health back on the right path. If you have any questions about the article or would like to arrange a visit, you can contact the practice online or over the phone for further assistance: +1 416-224-9998.