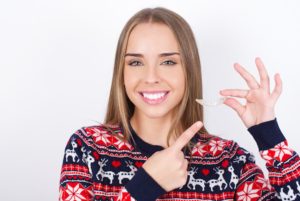 Invisalign in North York is one of the hottest treatment options around! More people than ever before are opting to enhance their smiles and in turn, their livelihood. That said, the Invisalign journey isn't always easy—especially during the holidays when there's a lot going on! Here are a few tips from your dentist to help you make it through the season without compromising or delaying your Invisalign treatment progress.
Tip #1: Adhere to the 22-Hour Rule
The 22-hour rule isn't arbitrary by any means; it comes straight from the American Dental Association, one of the most reputable dental organizations around. Invisalign works by gradually shifting your teeth into healthier positions, so if you aren't wearing your aligners often enough, your teeth won't move as intended! Since the holidays are a busy time of year, it might be tough to keep track of your wear time. To make things easier, you can set a reminder on your phone or utilize a timer.
Tip #2: Remove Your Aligners Before Eating
Another important rule to keep in mind during your Invisalign treatment is that the aligners must be removed before you eat or drink anything—the only exception to this rule is water. Your aligners are fragile and can easily become damaged, disfigured, or even stained if you eat or drink while wearing them. That said, be sure to pop out your trays before sitting down for your holiday meal!
Tip #3: Keep Your Aligners Clean
One of the perks of Invisalign is that the aligners are transparent and virtually invisible while being worn—hence the name! However, if you eat while wearing your aligners, fail to keep your mouth clean, or leave your aligners in unsanitary places, they can easily become dirty and unpleasant to wear. Be sure that in addition to maintaining excellent oral hygiene, you're keeping your aligners as sanitary as possible.
Tip #4: Protect & Keep Track of Your Aligners
Even though you should be wearing your aligners most of the time, there will still be instances when they're outside of your mouth. This is why it's important to bring your Invisalign storage case with you everywhere, whether you're at home or traveling for the holidays. This case will allow you to protect and keep tabs on your aligners when they aren't being worn.
This holiday season, you should be sure that you're keeping up with your Invisalign treatment while enjoying all of your planned festivities. Following these tips will keep things on track and help to deliver your new smile right on schedule!
About North York Dental
The team at North York Dental is thrilled to serve the dental needs of North York and the surrounding area. The practice is pleased to offer a wide range of services including Invisalign! If you have any questions about Invisalign or would like to arrange a consultation, you can contact the practice online or over the phone for assistance: +1 416-494-7878.